The SUT-1L's design is utterly uncompromising in terms of:
This is what the result sounds like
Our SUT 16-32 simply disappears. It gives free rein to the music and the characteristics of the pickup, while taking the back seat. The sound is natural, clear, tidy, direct, and supremely confident – exactly what the pickup manufacturer had in mind. The music flows, and the listener enjoys.
"The MK Analogue SUT-1L MC transformer puts on a stellar performance that instantly catapults it into the top tier of the transformer guild. Between the juicy sound of my Air Tight ATH-3, which reminds me of a glass of a great red wine, and the almost unfathomable neutrality and transparency of Consolidated Audio, it confidently finds its place."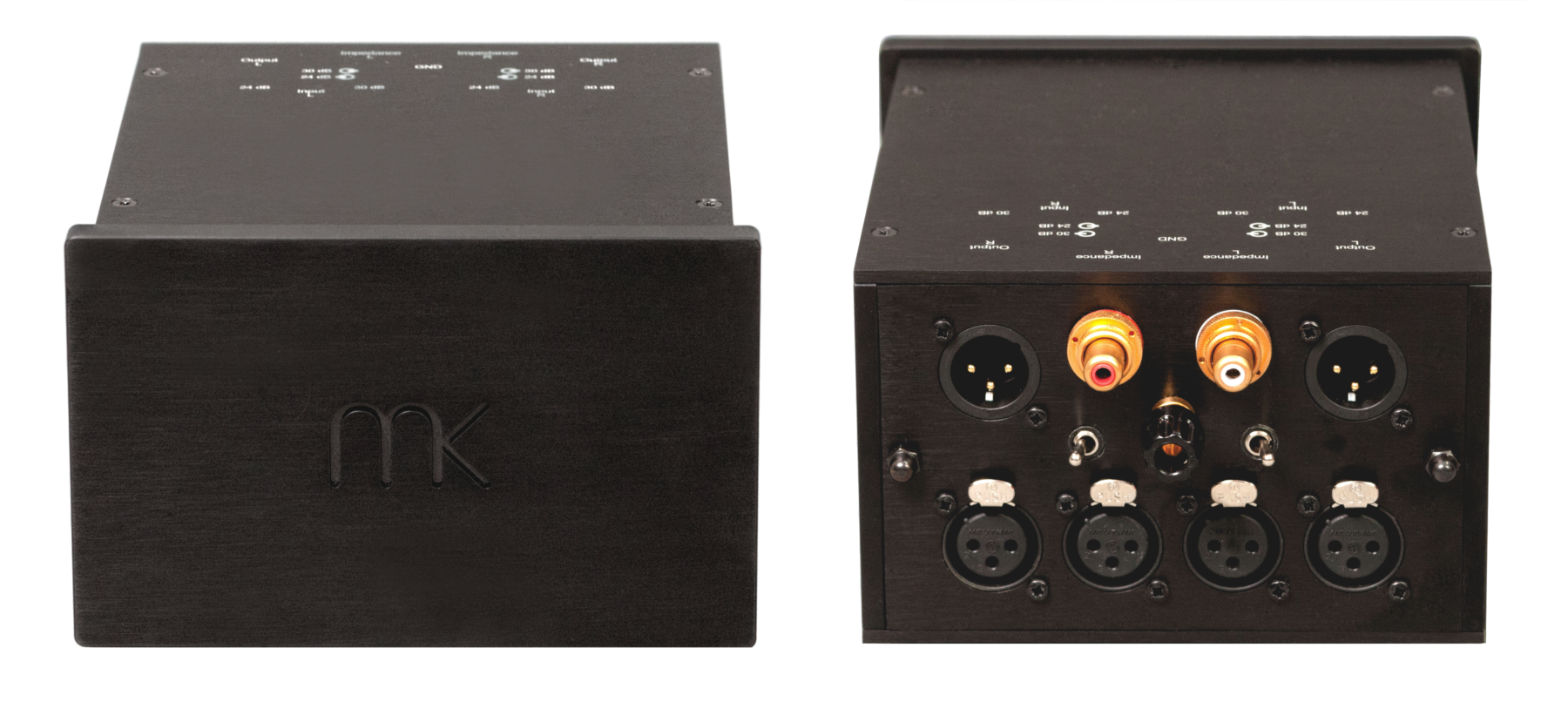 We attach great importance to consistent shielding of the transformer, not only against electromagnetic interference, but also against resonance and direct sound. Our SUT-1L is like a pillar, providing stability to the whole chain:
MU metal encapsulation for the actual transformer;
A brass body lined with bitumen mats, which in turn surrounds the MU-metal capsule;
The entire aluminium housing lined with bitumen mats;
Connection of the base plate with an additional aluminium plate: sandwich construction for further resonance optimisation, and
Sorbothane feet for decoupling from the ground.
'Every solder joint is one too many'. This simple wisdom was our stipulation for the internal wiring of the SUT-1L. For the two transformer stages – 24 dB and 30 dB voltage boost – two separate inputs are used, to which the signal lines of the transformer are directly connected. There is no need for another switch.
This enabled us to reduce the number of connection points by 70 %. For the remaining wiring paths, we used specially manufactured and individually twisted strands. In this way, we again minimised the negative influences on this short, but critically sensitive, signal path. No resonance-prone circuit board was used, which drastically reduced the construction time, nor were mutually influencing signal conductors: instead, self-sufficient, individually shielded signal conductors with capacity reduced by 60 % were used.
The pickup signal is inherently balanced. From a purely technical point of view, an MC pickup works like a dynamic microphone and, as such, should operate in a balanced mode. And with good reason, as a balanced signal routing is much less susceptible to interference than an unbalanced one.
Oh, One More Thing: What Is the Transformer Core Made of?
The heart of the SUT-1L is also our secret, into which we have poured our heart and soul. Let's leave it at that. Just listen to the result!
Technical data and details, price
Structure
fully balanced
Input and transformer ratios
Termination impedance (47 kohm)

30 dB – 45 ohm (for pickups from 0.1 to approx. 0.2 mV output voltage)
24 dB – 175 ohm (for pickups from 0.3 to approx. 0.5 mV output voltage)

Frequency response

24 dB: 10 Hz to 65.000 Hz (– 3 dB)
30 dB: 10 Hz to 25.000 Hz (– 3 dB)

Signal-to-noise ratio
115 dB (-10 dB V)
Distortion
K3 < 0,1 %  (f = 40Hz -10 dBm)
Material of feet
sorbothane
Connectors
Neutric
Dimensions
145 x 86 x 160 mm (W x H x D)
Weight
2.75 kg
Colours
black, silver
Retail price incl. VAT
2.990 €, including 2 pairs of matching plugs for 24 dB = 100 ohm and 30 dB = 11.5 ohm
A Non-exhaustive List of Pickups That Work Very Well with the MK Analogue SUT-1L:
Air Tight PC 1 Coda, PC-1 Supreme, Opus-1 MC
Dynavector Te Kaitora Rua, DRT XV-1S, DRT XV-1T
Etsuro Urushi Cobalt Blue, Bordeaux, Gold
Hana ML, Umami Red
Ikeda 9TS, 9TT, Ikeda KAI
Koetsu Black (Goldline), Rosewood (Standard, Signature, Signature Platinum), alle Koetsu Urushi-Modelle, Koetsu Onyx Platinum
Lyra Deos, Kleos, Kleos SL, Etna and Atlas
Mutech Hayabusa
My Sonic Lab (alle Modelle)
Ortofon Cadenza Serie
Ortofon MC Windfeld Ti Heritage
Phasemation PP-300, PP500, PP-2000
Sky Analog G-1, G2, P-1
SPU Classic GM MK II
SPU #1
SPU Synergy
Thorens SPU
ZYX Ultimate 4D XH SB, Ultimate Omega XH SB, Ultimate Airy XH, Ultimate 100, Ultimate Diamond, Ultimate Astra
We are offering optional cabling for the SUT-1L in the length of 0,9 metres and 1,5 metres
For connection from tonearm to the step-up transformer:
5 Pin to XLR male
Cinch/RCA to XLR male
XLR female to XLR male (for example Thorens turntables offer a XLR balanced output)
For connection from step-up transformer to MM phono preamplifiers:
XLR female to XLR male with a separate ground cable
XLR female to RCA male with a separate ground cable Special feature: our hand-made cable has the minus signal and the cable shielding soldered at two separate points on the connector, enabling the shielding to have direct contact with the input socket. That's really the icing on the cake in terms of avoiding hum.